Hugh

A.MacCallum's

Home Page
(26th July 1942 to 27th May 2019)

---
Biographical Information
Born in Campbeltown, Kintyre in 1942 into the famous MacCallum piping family, I started piping at about the age of nine. After early instruction from my elder brother Ronald, I had a period of about one year with Pipe Major John MacKenzie, a family friend. When John emigrated to Rhodesia in 1953, my father sent me to Inveraray to have tuition from my cousin Pipe Major Ronnie MacCallum M.B.E., (Gold Medallist Inverness and Oban) who was at that time piper to the Duke of Argyll. Thus began a long association with one of Scotland's best, and best known, pipers. Ronnie's teacher was William Thomson, a pupil of Ronald MacKenzie, nephew of the famous John Ban MacKenzie. There was also piping influence from Pipe Major George S.Allan. The MacCallums have genealogical and teaching links to the piping and bardic families of MacArthurs (Skye), McAllisters (Kintyre) and McMurchys (Kintyre). My great great great grand-father John MacAlester was the winner of the prize pipe at Falkirk Tryst in 1782.
After a successful junior solo career, I played for a time with the Ceannloch Pipe Band, Campbeltown when my brother Ronald was pipe major. I also played with the 8th Argylls (TA) Band, but I decided to take on professional solo competitions at the age of eighteen. I had good competitive successes including the following:
Gold Medal The Northern Meeting (1967)
Gold Medal The Argyllshire Gathering (1972)
Gold Clasp The Northern Meeting (4 times)
Senior Piobaireachd The Argyllshire Gathering (6 times)
Dunvegan Medal (1970)
Portree Clasp (6 times)
Silver Chanter (6 times)
Gold Banner (1970, 1973)
Glenfiddich Championship (1978)
Former Winners MSR at Oban & Inverness (5 times)
Former Winners London (twice)
Since retiring from competitive playing, I devote some of my time to teaching and judging. In 1995 The National Trust for Scotland commissioned me to compose a piobaireachd to commemorate the 250th Anniversary of the landing of Prince Charles Edward Stuart at Glenfinnan in August 1745. I played this tune entitled The Raising of the Standard at Glenfinnan at a special ceremony at the monument at Glenfinnan in 1995.
Hugh MacCallum sadly passed away on 27th May 2019. The family would like to thank everyone who attended the funeral, or left kind messages on the Web and Social Media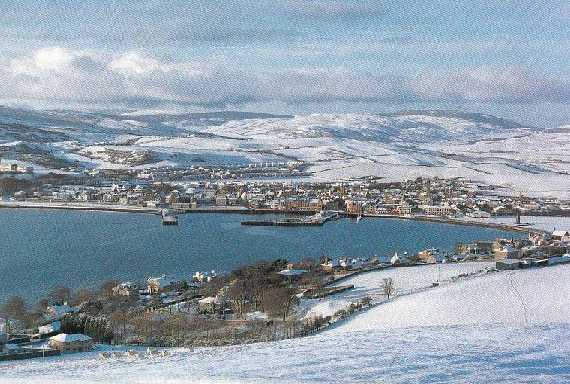 A View of Campbeltown in Winter

The Original Campbeltown pipe band c 1923
Front l to r :William Thomson (pupil of Ronald MacKenzie), Ronald MacCallum (later Pipe-Major Ronald MacCallum M.B.E)., A.McMillan (?)
Second rank l to r : William MacCallum (Hugh's father), Peter C.MacCallum , unknown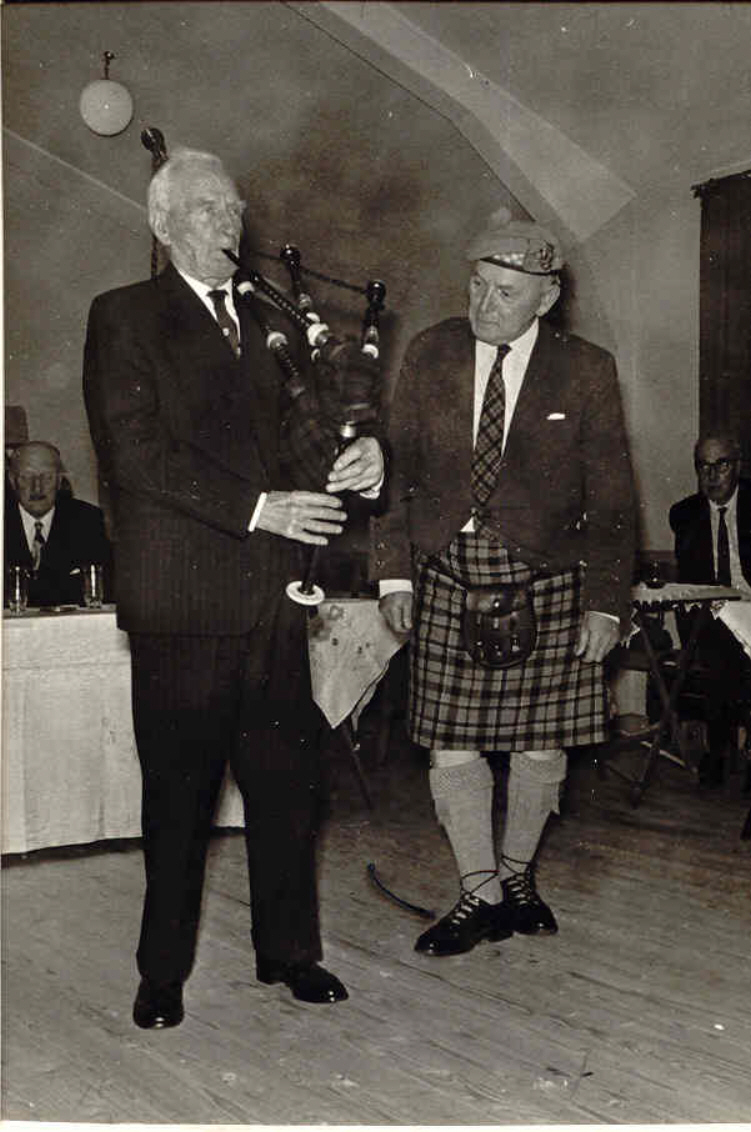 William Thomson (pupil of Ronald MacKenzie) and Pipe-Major Ronald MacCallum MBE

<![if !supportLineBreakNewLine]>
<![endif]>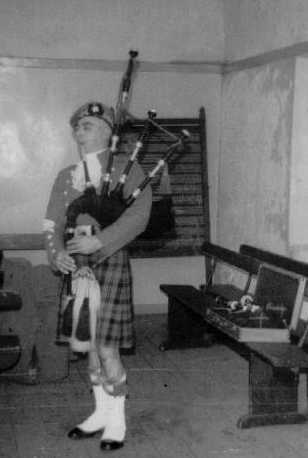 <![if !supportLineBreakNewLine]>
<![endif]>
My brother, Ronald MacCallum, pipe-major of Ceannloch Pipe Band, Campbeltown, taken in the early 1960s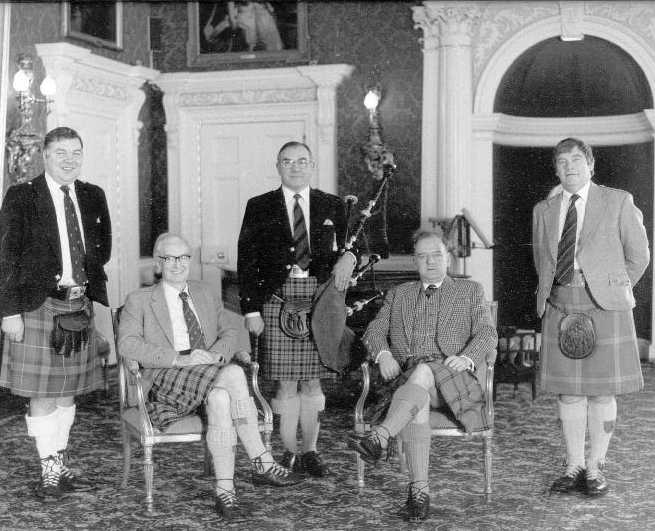 Participants in the BBC Television Series "The Piper's Tune"
l to r : Angus J.MacLellan, Seumas MacNeill (presenter), Hugh A.MacCallum, John D.Burgess, Iain MacFadyen.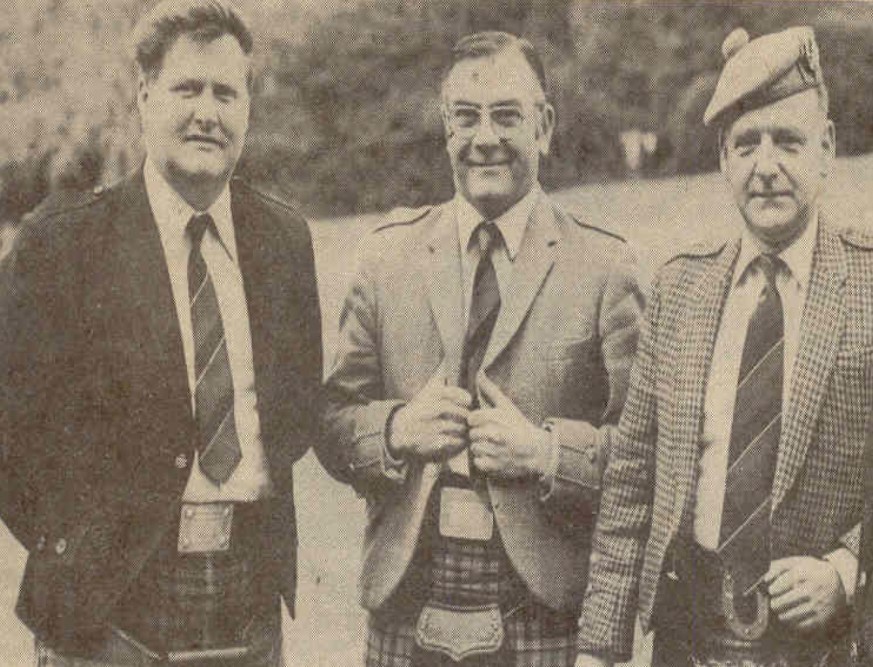 l

to r John McDougall, Hugh

MacCallum

, John

D.Burgess






The magnificent Stirling Castle viewed from the west.


Discography



Lismor

Recordings -

Worlds

Greatest Pipers Volume 2

Stirling University - Highland Bagpipe Music
Hugh

A.MacCallum

.
Last revised: 2016